Diabetic Eye Care in Kansas City and St. Joseph
Looking for diabetic eye doctors in Kansas City, MO? The team at Wiles Eye Center delivers the highest quality diabetic eye care. They provide customized diabetic eye care by compassionate, experienced eye care professionals. Equipped with some of the most sophisticated technologies available, Wiles Eye Center gives diabetic retinopathy patients the personalized care and superior results they desire.
View Video
Understanding the Importance of Diabetic Eye Care
Patients develop diabetic retinopathy from leaking blood vessels near the back of their eyes due to damage caused by abnormally high blood sugar levels. These leaks can cause the retina to swell and form deposits, which often leads to blindness or vision loss in patients who have had diabetes for more than 10 years. While the diabetic retinopathy is a serious condition, it can often be treated effectively if diagnosed in its early stages.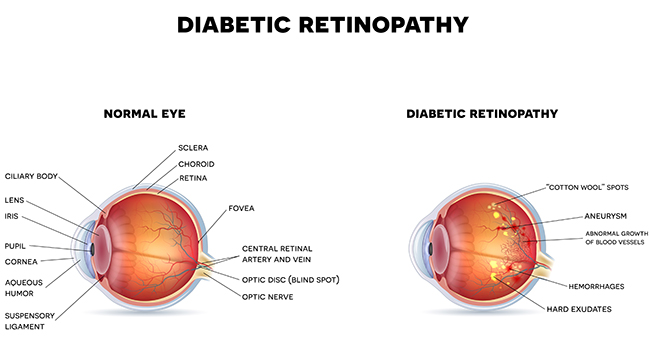 Diabetic Retinopathy Treatment at Wiles Eye Center
The talented eye care professionals at Wiles Eye Center understand the importance of early diagnosis of diabetic retinopathy. More than 95 percent of patients with early stages of diabetic retinopathy can benefit by properly managing diabetes through healthy diet and exercise regimes. The team at Wiles Eye Center encourages patients to have their eyes examined as soon as they find out they have diabetes, and then yearly.
Can Diabetic Retinopathy be Treated?
Yes. When sight-threatening changes are detected, laser treatment is used to treat diabetic retinopathy. A laser is very effective at maintaining vision, but it cannot always restore vision that has already been lost. In severe cases of bleeding caused by retinopathy, a procedure called vitrectomy may be required. New medication called Avastin has reversed retinopathy and restored sight in many diabetic patients.
View Video

Read more about Diabetic Retinopathy
Can Vision Loss from Diabetic Retinopathy be Prevented?
Yes, vision loss and potential blindness can be prevented if diabetic retinopathy is detected and treated early. By keeping blood glucose levels within the normal range, diabetic eye care patients can minimize the risk of vision loss. The specialists at Wiles Eye Center strongly encourage patients to take action even before they notice any eye problems.
The team at Wiles Eye Center understands how diabetes can lead to vision loss and strives to maintain crystal-clear sight for all of their patients. In most cases, treatment for diabetic retinopathy is covered by insurance. To make an appointment at Wiles Eye Center, please use our online appointment form.
At Wiles Eye Center, all patients are treated with the highest respect and attentiveness. This approach allows the practice's eye doctors – Stephen Wiles, MD, Erin Gilliland, MD, and Rachel Tischinski, OD – to deliver highly-rewarding treatment results for all of their diabetic eye care, glaucoma and cataract patients in Kansas City, MO. In addition, our surgeons specialize in laser eye surgery and are regarded as leading providers of diabetic eye care in Kansas City. Schedule your eye exam today by calling 816-455-2020 or request an eye exam appointment online.